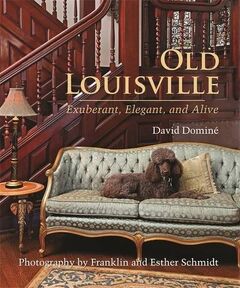 Old Louisville: Exuberant, Elegant, and Alive is a book written by David Dominé with photography by Franklin and Esther Schmidt. It was first published in 2013.
Description
A forty-five-square-block neighborhood in the heart of Kentucky's largest city, Old Louisville is among the largest and most significant historic preservation districts in America. Comprising some 1,400 structures built primarily between 1885 and 1905, it is a veritable time capsule of late-Victorian and early twentieth-century architecture. The broad avenues and quiet courts of this beautifully embowered space are lined with notable examples of Gothic Revival, Richardsonian Romanesque, Queen Anne, Italianate, Chateauesque, Second Empire, and Beaux Arts dwellings typifying the style and elegance of the Gilded Age.
Located just south of Louisville's business district, Old Louisville arose from the expansive grounds where the great Southern Exposition amazed and inspired visitors from 1883 to 1887. Coinciding with the economic growth of this expanding river city, the development of Old Louisville reflected the exuberance of its patrons and their architects as many of the designs combined various elements of diverse styles with sometimes whimsical and often strikingly delightful results.
Old Louisville: Exuberant, Elegant, and Alive takes an intimate tour of fifty residential designs, from grand mansions to cozy cottages, from familiar house museums and boutique hotel adaptations to private homes of charm and sophistication. Many of these residences have never been opened to the curious eyes of readers who are fascinated with old homes and interior design and intrigued by the skill and imagination necessary to rescue endangered buildings and convert them to the needs and comforts of modern living.
Old Louisville is alive today with the busy activities of commerce and creativity. It is abuzz with people heading off to work at an office downtown or to a studio downstairs, while next door or down the block new neighbors are hunkering down to restore an old gem from a bygone era. Street fairs and art festivals roll with the vitality of contemporary life in a historic setting, and the pleasant sounds of Derby party celebrants mingle with the echoes of those now past. Old Louisville celebrates the architectural context of this remarkable neighborhood and commemorates the passion and the dedication of those who have recognized the value of its past and have sacrificed to preserve the certainty of its future.