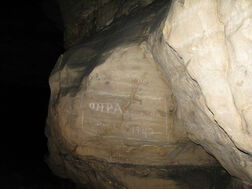 Oliver Hazard Perry Anderson (October 10, 1813 - May 17, 1845) was one of the few patients of John Croghan's experimental tuberculosis treatments in Mammoth Cave.
He lived for a time inside the cave in a stone hut. However, after several patients died and the rest grew more sickly, likely due to the cool conditions in the cave and exacerbated by the smoke emitted by large fires that were used for cooking and warmth. The experiments were halted in 1843.
Anderson eventually died from the disease on May 17, 1845. He is interred in Frankfort Cemetery in Frankfort, Kentucky.