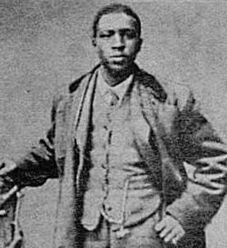 Oliver Lewis (1856–1924) was an African-American jockey in Thoroughbred horse racing. In 1875, Lewis rode in the very first Kentucky Derby on the winning horse, Aristides. Lewis and Aristides took second place in the Belmont Stakes, which is now the third race of the Triple Crown.
On September 8, 2010 the Newtown Pike Extension in Lexington, Kentucky was named the Oliver Lewis Way in honor of Oliver Lewis. Julie Harp Galbraith, a retired elementary school teacher submitted the winning name. Both of her parents were born and raised in Newtown, Kentucky and ancestors of the Harp Family have lived in the area since the 1790s.
Lewis died in 1924 and was buried in African Cemetery 2 in Lexington.