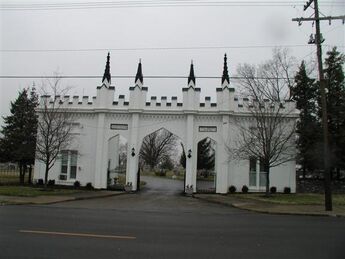 The Paris Cemetery in Bourbon County, Kentucky was founded in 1847. When opened, many families re-interred their dead in the new cemetery. The cemetery includes the Bourbon County Confederate Monument and a gatehouse that are each listed on the U.S. National Register of Historic Places. Aside from the Confederate Monument, other war memorials in the cemetery honor those who fought in the Mexican-American War, World War II, Korean War, and the Vietnam War. The most notable person buried here is John Fox, Jr., whose novel The Trail of the Lonesome Pine was the first work of American literature to sell over a million copies. A walking tour has been designed for those wishing to tour the cemetery.
The Bourbon County Confederate Monument, located in the middle of the Paris Cemetery of Paris, Kentucky, was built by the Confederate Monument Association in 1887. Like many monuments to the Confederate States of America in Kentucky, it is an obelisk, but is unique for being built like a chimney. The structure is made of mortared limestone, locally quarried, and the chimney is 30 feet tall on a 10-foot-tall base.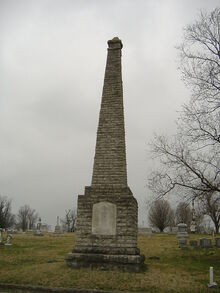 On the rear of the monument is a list of all those who died in the War from Bourbon County for the Confederacy, or those serving the Confederacy who died in Bourbon County. Bourbon was one of the more Confederate of counties; by November 1863, 700 men from Bourbon County served for the Confederate cause, whereas only 200 men from the county fought with the Union.
On July 17, 1997, it was one of sixty-one different monuments to the Civil War in Kentucky placed on the National Register of Historic Places, as part of the Civil War Monuments of Kentucky Multiple Property Submission.
The Paris Cemetery's gatehouse, made of granite, is also on the National Register, placed there on November 24, 1978. The cemetery was founded in 1847, with the gatehouse finished in 1862 by architect John McMurtry.
Notable Interments
Colonel Ezekiel Field Clay

John Thomas Croxton
Monuments