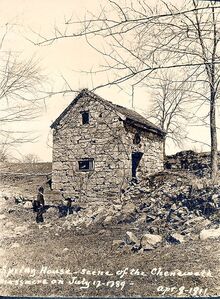 Margaret "Peggy" McCarty Chenoweth (1751 - 1839) was a pioneer who was married to Captain Richard Chenoweth. The two married in 1771 or 1773 and moved to Kentucky as a part of the George Rogers Clark expedition.
Together they had eleven children: Gideon, Thomas, Amelia, Jane, James, Levi, Margaret, Naomi, Polly, Tabitha, and Ann.
On July 17, 1789 the family was attacked by a large band of Native Americans. Peggy was shot through the lung with an arrow and faked her death while being scalped. She survived and wore a hat for the rest of her life to hide the scars.
Three of her children: Levi, Margaret, and Polly were killed in the raid as well.
Chenoweth Fort-Springhouse in Middletown was placed on the National Register of Historic Places on July 1, 1975. It is the site of the Chenoweth Massacre.