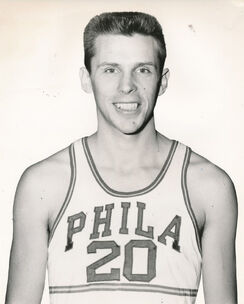 Phil Lee Rollins (born January 19, 1934) is an American former professional basketball player. Rollins was selected in the 1956 NBA draft by the Philadelphia Warriors after a collegiate career at Louisville. As a senior in 1955–56 he helped lead the Cardinals to a National Invitation Tournament championship.
In Rollins' five-year professional career, most of which was spent in the NBA (his final season was in the American Basketball League), he played for five different teams. In NBA games only, Rollins averaged 5.1 points, 2.3 rebounds and 2.6 assists per game.
His brother, Kenny, starred at the University of Kentucky before starting a professional basketball career. Ken was also a member of the 1948 NCAA and Olympic Gold Medal teams.