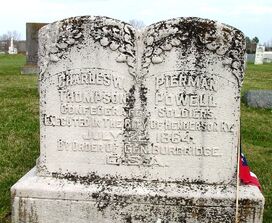 John Pierman Powell (August 21, 1841 - July 22, 1864) was born in McLean County, Kentucky. He was a confederate soldier. He and Charles W. Thompson were separated from their troop and captured by the Union. They were executed under Order 59 issued by General Stephen Burbridge.
Order 59 was meant to discourage and suppress guerrilla warfare. For every attack on Union soldiers or Union sympathizers by Confederate guerrillas, Burbridge would order up to four Confederate prisoners to be executed at or near the spot of the guerrilla attack.
James E. Rankin was attacked and severely injured in Henderson, Kentucky by a raid. Burbridge, in retaliation, executed both Powell and Thompson. Rankin did not die until after the execution. Rankin attempted to spare the two men by writing a note to spare their lives, but they were executed anyway.
The two men were executed by firing squad July 22, 1864. Powell was 22. He was buried in Saint Alphonsus Cemetery in Henderson.