The Sandman Will Keep You Awake - The Loop
Play Sound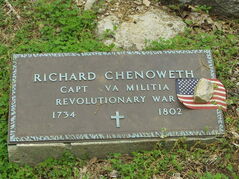 Captain Richard Chenoweth, son of John Chenoweth 1706-1771 and Mary Smith. Richard Chenoweth born 1734 was probably born in Baltimore Maryland.
His family moved to Frederick County, Virginia prior to 1746. Captain Chenoweth, in an affidavit in 1801, states he made an improvement where he now lives for Nicholas McCarty in 1776 (In May 1781, Richard Chenoweth went to Harrisburg to enter land titles and the recorded deeds included the preemption of Nicholas McCarty "in the Bushy Woods of Floyd's Fork").
Captain Richard Chenoweth married in 1771 or 1773 Margaret "Peggy" McCarty (She was born 1751- died abt 1839). The newlyweds lived in Berkeley County VA (made from Fredericks county, Virginia.
In 1778, Richard Chenoweth and his family went to Kentucky with the George Rogers Clark Expedition.
He was contracted by state of Virginia to build Fort Nelson, which is now downtown Louisville; spent much of his own money to finish building Fort Nelson.
He is considered one of the 7 Founding Fathers of Louisville, Kentucky.
He was Sheriff of Jefferson County in 1780.
Richard and Peggy had 11 children: Gideon, Thomas, Amelia, Jane, James, Levi, Margaret, Naomi, Polly, Tabitha, and Ann.
This family was attacked by Shawnee Indians in the Chenoweth Massacre July 17, 1789 at their home in Jefferson County. Richard, and son James were wounded. Richard's wife, Peggy, played dead and was scalped after being shot through the lung with an arrow, but survived.
Three of their children, Levi, Margaret, and Polly, were killed in the Massacre.
Richard and Peggy are supposed to be buried in the Chenoweth Family Graveyard on their Family Farm (Source: The Encyclopedia of Louisville, by John Kleber) which is 600 ft from the Chenoweth Fort-Springhouse, in Jefferson County.
Chenoweth Fort-Springhouse in Middletown KY was placed on the National Register of Historic Places on July 1, 1975. It is the site of the Chenoweth Massacre.
There is a footstone marker for Richard in Long Run Cemetery in Eastwood, Jefferson County.