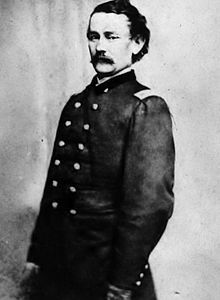 Robert Wickliffe Cooper (October 19, 1831 - June 8, 1867) was a Union Officer in the Civil War.
He was born October 19, 1831 in Lexington, Fayette County. Httended Dickenson College, and entered upon his Civil War service in the 20th Kentucky (US) Volunteer Infantry, and was soon commissioned a 2nd Lieutenant serving in staff positions. He fought at Shiloh, Corinth and Richmond, Kentucky, where he was captured. Upon his release he was commissioned Lieutenant Colonel of the 4th Kentucky (US) Volunteer Cavalry, soon afterward Colonel and commander. He participated in Major General James Wilson's raid into Alabama near the end of the Civil War in April 1865. His distinguished service resulted in his obtaining in 1866 a commission as Major in the newly organized 7th United States Regular Cavalry. As part of the 7th Cavalry, he participated in General Winfield Hancock's 1867 campaign against southern Plains tribes. Already in the advanced stages of alcoholism, he committed suicide near Medicine Lake Creek, Nebraska Territory by shooting himself during a fit of delirium tremens after running out of whiskey during the campaign. His commander General George Custer wrote of him, "But for intemperance Colonel Cooper would have been a useful and accomplished officer, a brilliant and most companionable gentleman".
Cooper died June 8, 1867 in Nebraska at the age of 35. He was buried in Lexington Cemetery in Lexington, Fayette County.