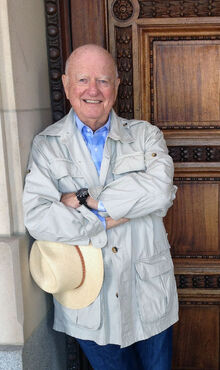 Ron Rhody was born and grew up in Frankfort, a small town nestled in a bend of a river in the heart of Kentucky's lush Bluegrass country and the state's capitol city.
He attended Georgetown College then transferred to the University of Kentucky, intending to enter law school, but became attracted to journalism instead.
Rhody has been a reporter, a sportswriter, a broadcast newsman, and covered the Kentucky legislature before moving on to a career as a corporate public relations executive in New York and San Francisco, and later as consultant to Fortune 500 companies on communications and public relations issues.
He was Executive Vice President, Corporate Communications and External Affairs for Bank of America Corporation during one of its most demanding decades as the bank skirted bankruptcy, fended off a hostile takeover attempt, and rose again to the top ranks of international financier at the capitol
Earlier he had been Corporate Vice President, Public Relations and Advertising, for Kaiser Aluminum & Chemical Corporation, directing the communication strategies for the intense marketing battles and international expansions and downsizings that were endemic to the world aluminum industry.
He is a fellow of the Public Relations Society of America and a member of the Arthur W. Page Society Hall of Fame. He received the Ferguson Award of The Public Relations Society of America for outstanding contributions to public relations education. He is past chairman the Public Relations Seminar and founding chairman of the San Francisco Academy.
Bibliography