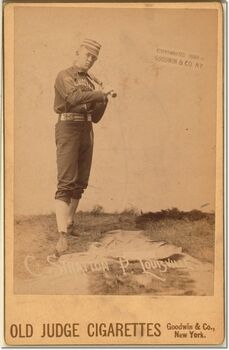 Chilton Scott Stratton (October 2, 1869 – March 8, 1939) was born in Campbellsburg, Kentucky. He was a Major League Baseball pitcher and outfielder from 1888 to 1895. A durable control pitcher, Stratton frequently played in the outfield on days when he didn't pitch because of his hitting and fielding skills. He played for the Louisville Colonels, Pittsburgh Pirates, and Chicago Colts.
Stratton's greatest season was his third, in 1890. As a 20-year-old, he pitched 431 innings for Louisville, going 34–14 and setting a major league record for starting 25 consecutive games that his team won. He led the American Association with a 2.36 earned run average, and the Colonels won the pennant. In three World Series starts, he went 1–1. Stratton never pitched as well after that, although he did win 21 games in 1892.
Stratton played in the minor leagues until 1900. His brother-in-law was Bill Anderson. He died in Louisville and was buried in Valley Cemetery in Taylorsville, Kentucky.