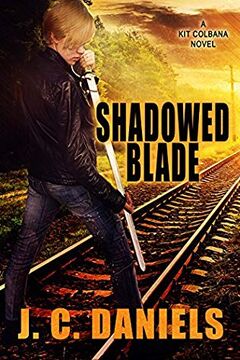 Shadowed Blade is a novel written by Shiloh Walker writing as J. C. Daniels. It was first published in 2016.
Description
Something wicked this way comes....
The arrival of a very important person in her office seemed to be the start of a lot of problems for Kit Colbana, investigator extraordinaire. Claiming that he needed somebody with her special skillset, he sends her on a series of jobs that made little to no sense until one culminated with both her and her partner, Justin, barely escaping with their lives.
Back in Orlando, they go their separate ways to recover, Justin heading to the house of a local witch, while Kit returns to the Lair, where she's recently been living with her lover Damon, the Alpha of the Southern Cat Clans.
There's barely a chance for Kit to catch her breath before trouble of the highest order comes knocking on her door. This time, it's the form of a psychic by the name of Nova. Nova has bad, bad news...Justin has gone missing and so has the witch who was going to put him up while he healed. Colleen, one of Kit's closest, dearest friends.
With all sorts of non-humans disappearing, fury doesn't even touch what Kit is feeling as she heads out to hunt down the people responsible.
But Kit isn't the only one out on a hunt...somebody is hunting for her...somebody Kit would rather never, ever see again.