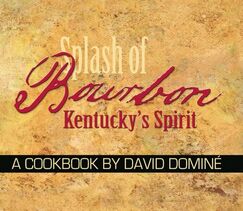 Splash of Bourbon: Kentucky's Spirit: A Cookbook is a cookbook written by David Dominé. It was first published in 2010.
Description
Baked into breads, simmered in stews, shaken over salads or dribbled in drinks and desserts, a bit of bourbon whiskey makes food taste better. Kentucky cooks have known this for a long time, but, with the increasing popularity of bourbon, a whole new generation of food lovers has discovered many uses for this versatile spirit in the kitchen.
Veteran food writer and cookbook author David Domine has put together a collection of original recipes that will help you enjoy bourbon's distinctive flavors in anything from crumpets and cakes to dressings and dumplings, and pilafs and purees. So grab your favorite bottle and get ready to fritter, flambe and fricassee away with the Bluegrass Peasant in Splash of Bourbon, Kentucky's Spirit.