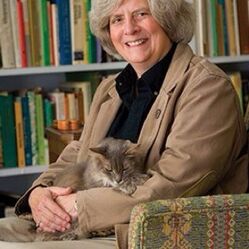 Susan Reigler (born 1955) is Award-winning writer. She is the author of Kentucky Bourbon Country: The Essential Travel Guide and co-author of The Kentucky Bourbon Cocktail Book and The Bourbon Tasting Notebook, was born in Louisville the year Swaps won the Kentucky Derby. Except for a two-year sojourn at Britain's Oxford University, where she earned a Masters Degree in Zoology, she has lived all her life in the Bluegrass State.
From 1992 to 2007, Reigler was the restaurant critic, beverage columnist and travel writer for the Louisville Courier-Journal. She has also written Kentucky restaurant reviews for Gayot.com.
In addition to scores of articles about bourbon published in the Courier-Journal, she has written articles for Saveur, Malt Advocate (now Whisky Advocate) and Wine Enthusiast.
Reigler is an Executive Bourbon Steward (certified by the Stave & Thief Society and the Kentucky Distillers Association) and currently serves as President of the board of directors of the Bourbon Women Association (www.bourbonwomen.org) and has participated as a presenter and/or author at Whisky Live!, The Bourbon Affair, and the New Orleans Bourbon Festival.
She has frequently acted as a judge for bourbon competitions and cocktail contests. She and co-author Joy Perrine host Bourbon Cocktail Mixology each year at The Kentucky Bourbon Festival and Reigler has conducted bourbon tastings for both corporate and charitable events from Savannah to Seattle. She has also assisted in private barrel selections from Brown-Forman, Four Roses, Buffalo Trace, and Jim Beam for restaurants, retailers, and non-profit organizations.
Her other books are Kentucky-Sweet & Savory, Kentucky (A Fodor's Compass American Guide), Adventures in Dining: Kentucky Bourbon Country, and The Complete Guide to Kentucky State Parks. She lives and writes in Louisville.
Bibliography