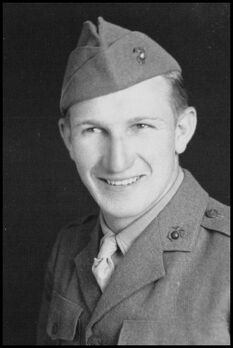 Goebel Franklin "Tex" Ritter (February 26, 1924 – October 15, 2004) was an American professional basketball player. Ritter was selected in the 1948 BAA Draft by the New York Knicks after a collegiate career at Eastern Kentucky. He played for the Knicks for three seasons before retiring from basketball.
Ritter was born February 26, 1924 in Richmond, Madison County. While enrolled as a student at Eastern Kentucky University on a football scholarship, he enlisted with the US Marine Corp during WWII where he served in the invasions of Guam and Iwo Jima earning two purple hearts and oak leaf clusters. He returned to EKU after the war, playing basketball, golf, track and baseball, earning recognition as a "little All-American" in all four sports.
Goebel earned a Bachelor of Arts and, later, Master of Arts degree from EKU. Goebel played professional basketball as a member of the NY Knicks from 1948 - 1951. Thereafter, he returned to KY where he taught and coached basketball at Fleming Neon, Hazard and Whitesburg High Schools. During his ten year tenure at Hazard, he took the Bulldogs to four state championships, winning the state tournament in 1955. He was honored for his athletic achievements by being named to the Hazard High School Hall of Fame in 1980 and the Dawahare's KHSAA Hall of Fame in 1991. Goebel was employed by the Letcher County Board of Education as administrator at the Central Office until his retirement in 1992. Additionally, he served as Past Rotary President and official for the Whitesburg Peewee Basketball League, where he shared his love and knowledge of basketball with thousands of children.
Ritter died October 15, 2004 in Whitesburg, Letcher County. He was buried in Sandlick Creek Cemetery in Whitesburg.