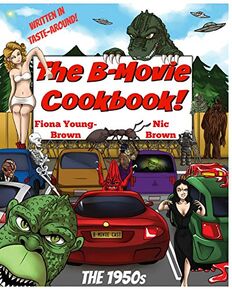 The B-Movie Cookbook!: The 1950s is a cookbook written by Nic Brown and Fiona Young-Brown. It was first published in 2017.
Description
What's more fun than some of your favorite classic B-Movies from the 1950s? Enjoying them with some amazing food!
The B-Movie Cookbook brings you recipes inspired by 15 classic films like "The Blob", "Them", "The Thing From Another World" and more!
From snacks to fancy feasts the B-Movie Cookbook has something for everyone! So warm up the oven, turn on the TV and invite some friends over for B-Movie madness and some good eats! Giant ants, flying saucers, werewolves, and sea monsters are all on the menu when you tune in for fun!