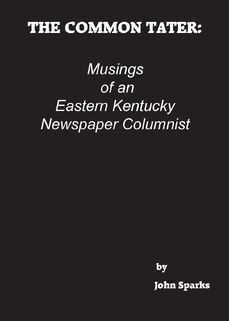 The Common Tater: Musings of an Eastern Kentucky Newspaper Columnist is a collection of essays written by John Sparks. It was first published in 2018.
Description
In the spring of 2016, when things were getting just about their craziest in American politics, I was approached by the editor of the then-extant "Around Town" family of newspapers in the Big Sandy Valley of eastern Kentucky, to write a weekly column that would appear in all three papers: Around Paintsville, Around Prestonsburg, and Around Louisa. At first I wondered if I could write on demand in the fashion the papers required, with any degree of brevity or wit either one; but as I warmed to the task, I even began to like it.
Unfortunately, Around Town's publisher left the newspaper business the following year, and of course that also spoke the end for all its features, including my column. Yet in reading over these variegated little essays now, the summer of 2018, their continuing validity surprises me: the historical ones certainly, the religious/philosophical ones perhaps, and what appears to me to be a strikingly large number of the political ones.
And so the old Common Tater offers up his wit--or as a friend and correspondent once put it, half-wit--once again in this collection in the hope that others might enjoy rereading them and recalling the very, very strange time in which they were written.