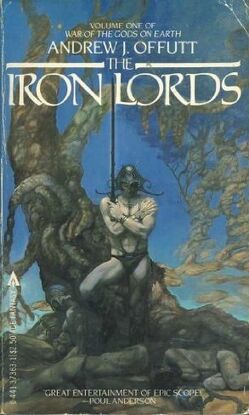 The Iron Lords is a novel written by Andrew J. Offutt. It was first published in 1979.
Description
A world in peril, and one man to save it...
A savage tragedy rocked Jarik's world that day. In one moment he was orphaned, again, without village, without purpose, without anywhere to belong - but not alone.
He set off on a quest for vengeance and glory, to lay waste to the hawkers who had destroyed his village with murder, rape and fire. By his side was his sister Torsy, and inside of him was another. Someone who couldn't exist, shouldn't exist, but did.
On his journey across the sea he looks not only for revenge but to unroot his unknown origins, as well as those of Oak, his mysterious counterpart. And to cure his adoptive sister Torsy of her shock and find a place they can truly belong.
Along the way he becomes embroiled in struggles with in godly legend and humanly vices, battling marauders, his host village and social isolation daily.
And now he undertakes his greatest lesson: learning the arts of war.
His destiny is unfolding before him, but down two different paths.
The path of the great healer, or of the violent avenger?
He must decide.