We're Getting Mutants in the MCU - The Loop
Play Sound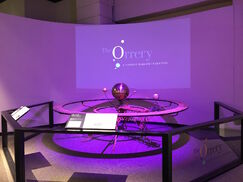 Thomas Harris Barlow (August 5, 1789 - June 22, 1865), inventor, was born in Nichols County, Kentucky, to William and Sarah (Kimbrough) Barlow. During the War of 1812, he fought under Richard M. Johnson at the Battle of the Thames. He married Keziah West in 1816. He moved to Lexington in 1824, and for many years operated a foundry and machine shop where he manufactured sawmill equipment. Barlow developed a small steam locomotive in partnership with Joseph Bruen in the winter of 1825-1826. It operated on a small circular track and was capable of carrying two adults. Barlow and Bruen's attempt to build a full-sized locomotive to pull passenger cars on the Lexington & Ohio Railroad was not successful.
In 1845 Barlow received a patent for a steam-powered hemp-retting mechanism to separate the fiber from the stalk of the plant. Although the device worked well, it was too expensive for general use. Barlow's most widely used invention was a mechanically operated orrery, or model of the solar system. The remarkably accurate apparatus showed the location of the planets on any given day of the nineteenth century. Many of the "planetariums" were sold to schools, and they were purchased by the U.S. government for use at the Naval Academy and the U.S. Military Academy at West Point. The invention was demonstrated by Barlow's son, Milton, at the world exposition in Paris in 1867 and at exhibitons throughout the United States. A few Barlow planetariums have been exhibited in museums in the United States.
Many of Barlow's inventions were devised with the aid of his son, Milton. Among them were a cradling harvester, a mechanical device for cutting nails and tacks, and a cannon with a rifled barrel that greatly improved accuracy. It was undoubtedly someone from this ingenious family who invented the Barlow knife, the sturdy, single-bladed jack knife that has become a treasured keepsake for many people. Barlow's numerous inventions did not bring financial success, and on more than one occasion he was forced to mortgage his personal property to satisfy his debts. In 1861 he suffered a stroke and spent the last years of his life with a daughter in Cincinnati. He died on June 22, 1865, and was buried in Cave Hill Cemetery in Louisville.