Line 15:
Line 15:
 

[[Category:1808 Deaths]]

 

[[Category:1808 Deaths]]

 

[[Category:1800s Deaths]]

 

[[Category:1800s Deaths]]

 
+

{{DEFAULTSORT:Hart, Thomas}}
---
Latest revision as of 13:09, 20 August 2018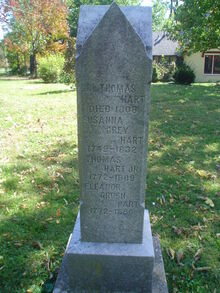 Thomas Hart (December 11, 1730 – June 23, 1808) was born on a plantation in Hanover County, Virginia. His family moved to Orange County, North Carolina in 1755. In North Carolina he served two terms as Sheriff of Orange County and was elected as a Senator in the North Carolina General Assembly in 1777.
In the Revolutionary War he was a Colonel in the Sixth North Carolina Regiment of the Continental Army. He owned a 1/8 interest in the Transylvania Company which purchased some twenty million acres of land in Kentucky and Tennessee from the Cherokee Indians in 1775 and attempted to form a fourteenth state named Transylvania. This was the largest land deal in the history of North America. Virginia and North Carolina took the land but awarded the Company large land grants for its service in settling the west.
In 1794 Hart moved to Lexington, Kentucky where he engaged in the rope and hemp business. He was the father-in-law of Henry Clay, Kentucky statesman, and James Brown, United States Senator from Louisiana and Minister to France.
Hart died, June 23, 1808 and was buried in the Old Episcopal Third Street Cemetery in Lexington, Kentucky.