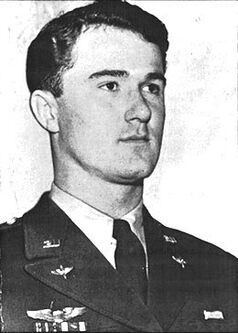 Captain Thomas Francis Mantell Jr. (June 30, 1922 – January 7, 1948) was a United States Air Force serviceman and a World War II veteran. Mantell was awarded the Distinguished Flying Cross for courageous action during the Normandy landings, and an Air Medal with three Oak leaf clusters for heroism.
Mantell graduated from Male High School in Louisville. On June 16, 1942, Mantell joined the United States Army Air Corps, finishing Flight School on 30 June 1943. During World War II, he was assigned to the 440th Troop Carrier Group, which air dropped the 101st Airborne Division into Normandy, France on June 6, 1944.
After the war, Mantell returned to Louisville, joining the newly formed Kentucky Air National Guard on February 16, 1947. He became a F-51D Mustang pilot in the 165th Fighter Squadron.
Following his death in January 7, 1948, in what is known as the Mantell UFO Incident, Mantell's remains were returned to Louisville for burial in the Zachary Taylor National Cemetery.
On September 29, 2001, the Simpson County Historical Society unveiled a historical marker in honor of Thomas Mantell in his hometown of Franklin. The marker is located at the exit off Interstate 65.