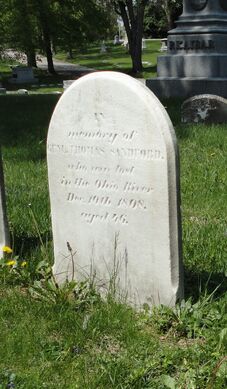 Thomas Sandford (1762 – December 10, 1808) was an American soldier and politician.
He was born in Westmoreland County, Virginia in 1762, son of Youell Sanford (d. 24 January 1794 in Cople Parish, Westmoreland County) and Elizabeth Pope (b. 1732), daughter from a family long important in Virginia politics. In 1770, he inherited 150 acres of land from his paternal grandfather Youell Sanford Sr.
He rose to become a General in the American War of Independence. Following the Revolution, he settled in Kentucky where he had been granted land, in 1792. In his political career he was a state representative and senator, then a representative in the Eighth and Ninth Congresses (1803–1807). He drowned in the Ohio River near Covington, Kentucky on December 10, 1808. He was buried in Highland Cemetery in Fort Mitchell, Kenton County.