Jurassic World: Dominion Dominates Fandom Wikis - The Loop
Play Sound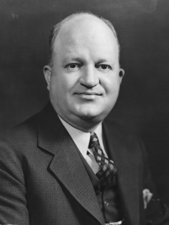 Virgil Munday Chapman (March 15, 1895 – March 8, 1951), a Democrat, represented Kentucky in the United States House of Representatives and in the United States Senate.
Chapman, originally from Middleton, Kentucky, practiced law in Irvine, Kentucky, then Paris, Kentucky, then Lexington, Kentucky. He was married to Mary Chapman and had one daughter, Elizabeth.
In 1924 Chapman was elected to the United States House of Representatives and served two terms representing Kentucky's 7th Congressional District in the House, 1925-1929. In 1928 Chapman lost his House seat in the Republican landslide as Herbert Hoover was elected president. Chapman was ousted that year by Republican Robert E. Lee Blackburn but defeated Blackburn in a rematch two years later, in 1930. Chapman, re-elected to the House in 1930, served two terms, 1931-1935, representing the 7th district. Chapman then was elected to represent Kentucky's 6th district in the House and held that seat from 1935 through 1949.
In 1948 Chapman defeated incumbent John Sherman Cooper for a seat in the United States Senate. An automobile accident in Washington, DC killed Chapman on March 8, 1951. He is buried at Paris Cemetery, at Paris, Kentucky.
Chapman was succeeded in both the House of Representatives and the Senate by Thomas R. Underwood. This is rare but not unique — Dan Quayle, William Hathaway, Spark Matsunaga, Henry C. Hansbrough, and Jonathan Chace were all also succeeded by the same person in both the House and Senate.