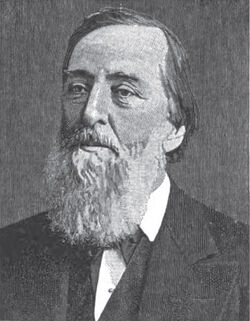 Walter N Haldeman (April 27, 1821 – May 13, 1902) was born April 27, 1821 in Maysville, Mason County, Kentucky. He was an American newspaper publisher, owner, and businessman from Louisville, KY in the 19th and early 20th centuries. Mr. Haldeman founded the Louisville Courier-Journal newspaper; which is still in circulation and currently owned by the Gannett Company. As a businessman, Mr. Haldeman is also known as the founder of Naples, Florida and the owner of the Major League Baseball team, the Louisville Grays; a charter member of the National League. His son, John Haldeman, played in one game for the Grays in 1877.
Although a force in 19th Century U.S. newspaper business, Mr. Haldeman shied away from the spotlight, as a New York Times article from May 14, 1902 described him as "a man of unusual force of character, but remarkably modest, so that he resented any form of publicity about himself"; thus providing the spotlight for the Courier-Journal editor, Henry Watterson.
Walter N. Haldeman was the son of John Haldeman and Elizabeth Newman, and was born in Maysville, KY where he spent his childhood years. He attended Maysville Academy with future prominent Americans' Ulysses S. Grant, William H. Wadsworth, Thomas H. Nelson, and William "Bull" Nelson under the tutelage of Professor William A. Richardson. At age 16 Mr. Haldeman moved with his family to Louisville, KY where he worked in a grocery store and commission house. In 1840 Mr. Haldeman started his newspaper career in a clerical position at the Louisville Journal, but within a few years he had opened his own bookstore and print shop.
Haldman died May 13, 1902 in Louisville, Jefferson County. He was buried in Cave Hill Cemetery.