The Sandman Will Keep You Awake - The Loop
Play Sound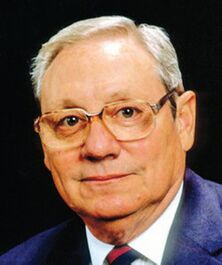 Warren W. Rosenthal (September 20, 1923 - October 19, 2019) was a businessman, restaurateur, and philanthropist.
Born in Paducah, Kentucky, on September 20, 1923. He graduated from the University of Kentucky, B.S., 1947.
He joined Jerrico, Inc. in 1948 when it consisted of two hamburger stands and a sandwich shop. He became Chief Executive Officer in 1957 and President of the company in 1963.
In 1957, he launched a program to franchise Jerry's Restaurants and guided Jerrico, Inc. into becoming a publicly owned company in 1969. Jerrico, Inc. grew into over 1,350 Long John Silver's Seafood Shoppes in 37 states and five foreign countries, and 78 full service Jerry's Restaurants.
He is active in community affairs and has served as President of Junior Achievement of the Bluegrass, and as First Vice President of the Bluegrass Council Boy Scouts of America. He was a founder and President of the Kentucky Restaurant Association, and is a past President of the International Franchise Association.
He serves on the boards of First Security National Bank and Trust Company, Kentucky Utilities Company, St. Joseph's Hospital, the Child Development Center of the Bluegrass, and Kentucky Medical Access Foundation.
He was instrumental in establishing a School of Hotel and Restaurant Management at Transylvania University. He was Vice Chairman and is a member of the Board of Curators of Transylvania University, a member of the University of Kentucky's College Business and Economics Advisory Council, a member of the National Board of Trustees, City of Hope. He is President of the National Institute for the Foodservice Industry, an educational foundation.
Among the awards and honors he has received is the Gold Plate Award, by the International Food Service Manufacturers Association in 1975. He was named "Outstanding Citizen of the Year" in 1977 by the Greater Lexington Area Chamber of Commerce. He received the Transylvania Medal in 1977, awarded to persons who have contributed outstanding service to the college by non-alums, and in 1979 received an honorary Doctor of Laws degree.
In 1979, he became the first recipient of the National Leadership Award given by Junior Achievement. That same year the Spirit of Life Award was presented to him and a Research Fellowship was established in his name at the City of Hope, a pilot medical center.
In 1983, the President of Iceland presented Rosenthal with the Icelandic Order of the Falcon, the highest award presented to someone other than heads of state and royalty.
He was awarded an honorary Doctor of Law degree by the University of Kentucky in 1984.
Warren Rosenthal was named to the Hall of Distinguished Alumni on May 10, 1985.
Rosenthal died October 19, 2019 at the age of 96.