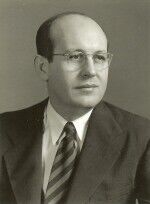 Wayne Edward Oates (June 24, 1917 – October 21, 1999) was an American psychologist and religious educator who coined the word 'workaholic'.
Born to a poor family in Greenville, South Carolina June 24, 1917, Oates was abandoned by his father in infancy and was brought up by his grandmother and sister while his mother supported them by working in a cotton mill. At the age of fourteen he was one of a small number of impoverished clever boys selected to serve as a United States House of Representatives Page. He enjoyed the experience and it inspired him to become the first of his family to enter higher education. He studied at Mars Hill Junior College, Wake Forest University, Southern Baptist Theological Seminary, Union Theological Seminary, and the University of Louisville School of Medicine. After graduating from Southern with a PhD in Psychology of Religion, Oates joined the School of Theology in 1947 as professor of psychology of religion and pastoral care. He held the post until he joined the University of Louisville Medical School in 1974.
Oates' cross-disciplinary approach combined psychological models with pastoral sensitivity, and biblical teaching. The result changed conventional attitudes to counselling to yield the modern pastoral care movement. Oates developed the 'trialogue' form of pastoral counseling: a conversation between counselor, counselee, and the Holy Spirit. The first of his fifty-seven books, was a short volume entitled Alcohol in and out of the Church (1940) and there was a long interval before the reworking of his doctoral thesis The Significance of the Work of Sigmund Freud for the Christian Faith under the autobiographical title The Christian Pastor (1951). The trialogue concept was introduced in The Presence of God in Pastoral Counseling. With the publication of Confessions of a Workaholic in 1971 he brought his neologism 'workaholic' into public use and it was soon included in the Oxford English Dictionary.
In 1984 the American Psychiatric Association granted Oates the Oskar Pfister Award for his contributions to the relationship between psychiatry and religion.
He married Pauline with whom he had two sons. They lived in Louisville, Kentucky until his death on October 21, 1999. He is buried in Cave Hill Cemetery in Louisville.
Bibliography