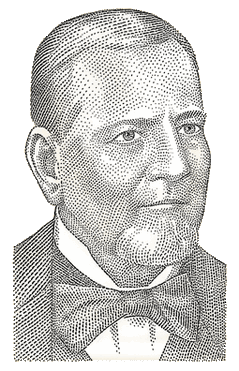 William Larue Weller (July 25, 1825 - March 23, 1899) was born July 25, 1825 in Larue County.
He was a soldier in the Mexican War (1846-1848).
Weller was a distiller in the early days of bourbon distilling in Kentucky, founding the W. L. Weller Distillery Company in Louisville. He was said to be the first to produce straight bourbon using wheat instead of rye in the mashbill. His wheated bourbon was first produced in 1849. W. L. Weller Bourbon, a brand in his name is produced in Buffalo Trace Distillery in Frankfort, Kentucky. Like all bourbons, it is distilled from a mash consisting of 51% corn. But it's secondary grain is wheat whereas most bourbons use rye.
He died in Ocala, Marion County, Florida March 23, 1899 at the age of 73. He was buried in Cave Hill Cemetery in Louisville.