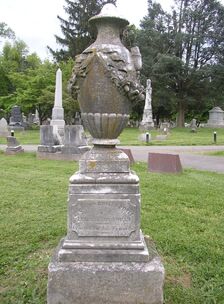 Wiiliam Owsley Boyle (August 30, 1845 - December 18, 1864) was a Lt. Colonel at the age of 18, the youngest of that rank in the entire Union Army.
Boyle was born August 30, 1845, the son of Jeremiah Boyle, who himself was a Brigadier General for the Union.
William was affectionately known as, "The Boy Major".
During the Atlanta Campaign in the Summer of 1864 he daringly led his regiment behind enemy lines and prevented the capture of his men while the rest of the cavalry division was captured along with Division Commander, Major General, George Stoneman. Stoneman was the highest ranking Union officer ever to be captured. Boyle received a promotion to Lt. Colonel for meritorious service during the Atlanta Campaign. Unfortunately Boyle died only three months later.
"Lt. Colonel Boyle was killed on the afternoon of December 18, 1864 while leading a charge at the Battle of Marion, VA. Colonel Boyle was riding at the head of his regiment, the 11th Kentucky Cavalry when a bullet struck him in the head, killing him instantly. The charge eventually faltered and Colonel Boyle's body was left lying on the field of battle. There were several unsuccessful attempts that evening to recover Boyle's remains but Confederate sharpshooters thwarted every attempt. The Confederate's evacuated the field later that night of December 18th and Boyles body was recovered the following morning. Upon returning to Kentucky most of the Union wounded that could not ride were left behind to be taken prisoner. All of the dead were buried with the exception of William Boyle. General Stephen G. Burbridge had Boyle's body embalmed in salt and transported back to his home in Boyle County. Burbridge and Col. Boyle's regiment, the 11th Kentucky Cavalry delivered Col. Boyle's remains to his father, General Jeremiah Boyle. General Burbridge and the 11th Kentucky Cavalry regiment remained in Boyle County and participated in the funeral services for William Boyle. It was said that Jeremiah Boyle never recovered from the loss of his son, William." ~ Excerpt from Glory Gone Forgotten: The Untold Story of the 12th Kentucky Cavalry by Barry Goodall.
William Boyle is buried in Bellevue Cemetery in Danville.