The Sandman Will Keep You Awake - The Loop
Play Sound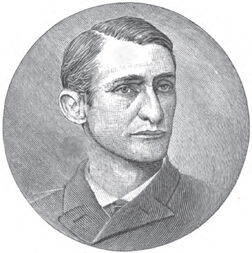 William Preston Taulbee (October 22, 1851 – March 11, 1890) was a U.S. Representative from Kentucky.
Taulbee was a son of William Harrison Taulbee (1824–1905) and his wife, Mary Ann Wilson (1831–1916). Born October 22, 1851 near Mount Sterling, in Morgan County, Kentucky, Taulbee attended the common schools and was tutored by his father. He was ordained for the ministry and admitted to the Kentucky conference of the Methodist Episcopal Church, South.
Taulbee was elected clerk of the Magoffin County Court in 1878 and reelected in 1882. He studied law.
Taulbee was elected as a Democrat to the Forty-ninth and Fiftieth Congresses (March 4, 1885 – March 3, 1889). He was not a candidate for renomination.
He was shot by Charles E. Kincaid, a newspaper correspondent, on the east staircase of the House wing of the Capitol Building, Washington, D.C., February 28, 1890, and died from the effects of the wounds at Providence Hospital, in that city, March 11, 1890.
He was interred in the family burying ground near Mount Sterling, Kentucky. Blood stains from his wounds are still visible on the staircase in the Capitol Building where he was shot.