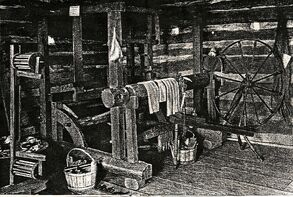 William Poage (1735 - September 3, 1778) was born in 1735 in Ireland.
He was married to Ann McGinty as of 1762. They had two daughters, Martha and Mary Elizabeth.
Poage was the handy man at Harrod's fork. He made noggins, piggins, trenchers, bowls, paddles, chairs, spinning wheels and looms that kept his wife and the other women busy. However he did not confine his skills to their needs, for he made the first plow that turned the first bluegrass sod in Kentucky, the reap hooks, hemp hunches, ox yokes, water yokes, frows and other utensils indispensable to pioneer life.
One of the rarest collections of pioneer tools and utensils in the United States can be found in the cabin that bears his name (see picture). There are broadaxes with which the pioneers hewed timbers for their log cabins, and for their log forts. The frows and beetles were used to split the clapboards for their floors. Today this cabin house Old Fort Harrod State Park's broom maker.
Poage died September 3, 1778 in Harrodsburg, Mercer County, Kentucky. He was buried in the Fort Harrod Pioneer Cemetery.